Meet Ben Stout, Development Specialist | Career Spotlight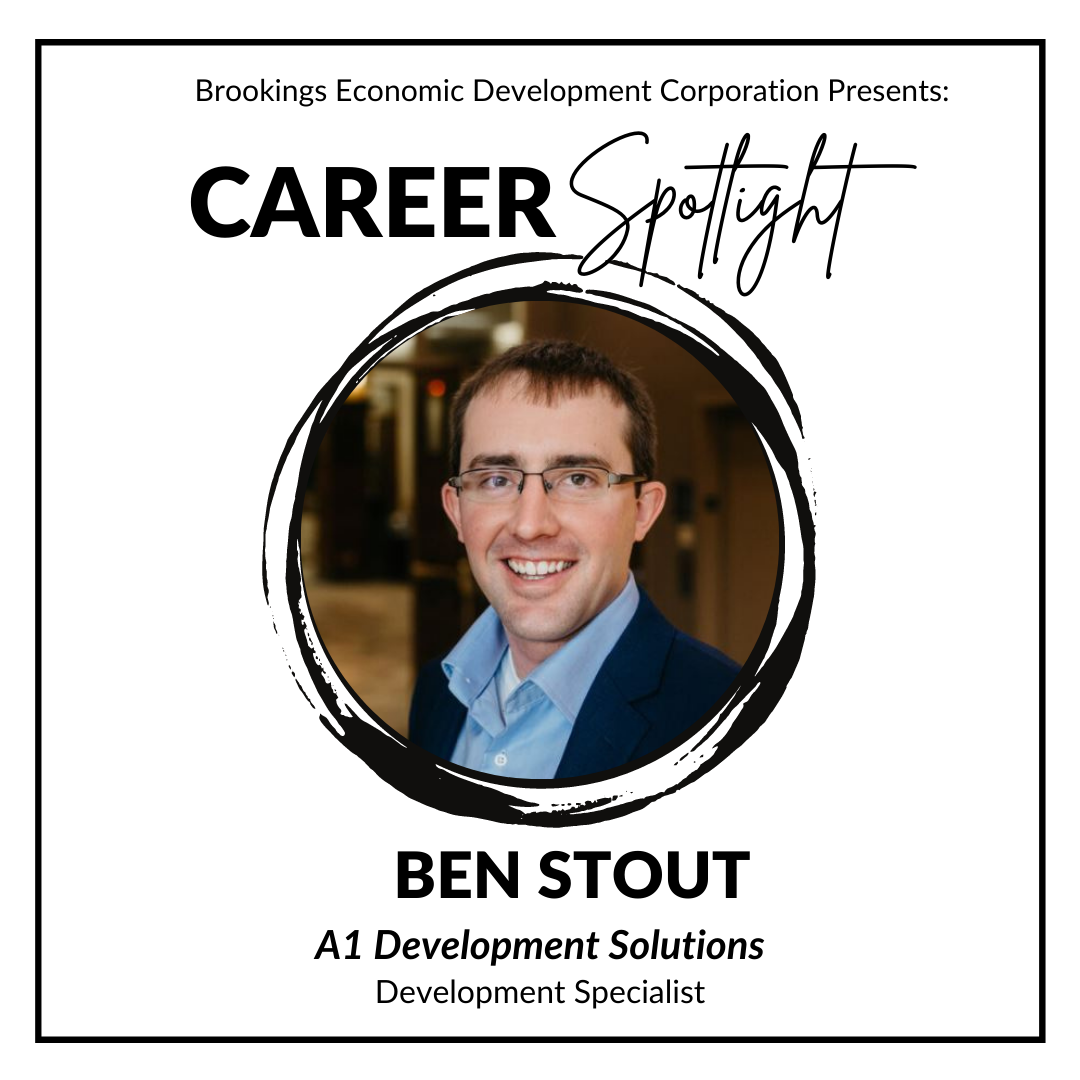 27 May 2021
Career Spotlight
Ben joined the A1 Development team in the fall of 2019 and has a strong background in the food production industry. Ben grew up on a small grain and beef cattle ranch in western South Dakota, and worked closely with his family as they managed a restaurant and catering business in his hometown. Ben received his Bachelor's and Master's degrees from South Dakota State University, and was elected to serve as the Students' Association President during his time as a student. After college, Ben worked in economic development for the South Dakota Department of Agriculture, and led the compliance program for Riverview, LLP's beef feedlots and dairy farms in South Dakota. Ben continues to be an active partner in his family's farming and food service operations.
Name: Ben Stout
Title: Development Specialist
Hometown: Kadoka, SD
Company: A1 Development Solutions
What are your responsibilities?
In Ben's role, he works to get new dairy farms built in Eastern SD. He also manages local and state permitting processes, and manages feed and nutrient plans for several dairy farms in the area.
How did you find your way to where you are today?
After graduating from SDSU, Ben worked for the South Dakota Department of Agriculture's Business Development team. At that time, one of the major focuses of Governor Daugaard's administration was recruiting new Value-Added ag businesses to build in South Dakota. His group worked on several ag processing and livestock development projects, and that led to an opportunity for Ben to join A1 Development Solutions doing the same type of work for a private sector business.
What role has education and training played in your career path?
Ben has a B.S. and M.S. degrees from SDSU, and have several other professional certifications like a Real Estate License and Certified Crop Adviser.
"I think, more importantly than any title or certification, it is important to maintain an attitude of always learning. Every course, class, certification, etc. that I have taken has led to some type of new opportunity for me."
– Ben Stout
What qualities or characteristics do you find are necessary to be successful in your role?
Keeping an open mind, being willing to learn, being willing to work hard, and great communication skills are essential for success in his role.
How would you recommend someone interested in the same career/occupation pursue a similar path?
There is a tremendous amount of growth in the ag industry in our area at the moment, and tons of new opportunities popping up every day. Ben believes that job shadowing is one of the best ways to learn and would be happy to visit with any student about some of the opportunities he is aware of. There are a lot of opportunities that are out there that aren't talked about in classroom discussions.
If you get involved in the industry, keep an open mind, and are hungry for work, you will find career opportunities in agriculture.
Ben shares, "Pretty much all of the jobs that I've had within the industry came because I had a good network and had established a reputation for working hard."
What extracurricular activities helped you develop professionally?
Ben has been involved in all types of extracurricular activities all throughout his life. In high school, he was in band, chorus, and sports. In college, he really got involved with different student groups. In fact, Ben was an active member at close to 15 different student groups (not all at the same time) during his time at SDSU. Since graduating from college, Ben has served on 4-5 different volunteer boards in the community.
"I think the most beneficial things about extracurricular activities are 1) you meet new people and expand your network, and 2) you learn how to work with and problem solve with people who are often have very different skill sets than what you have."
What are other skillsets (perhaps unconventional) that thrive in this field?
Great communication and problem solving skills are absolutely essential.
What is a typical salary range for someone starting in this line of work?
As much as you are willing to work for!
Want to learn more? Connect with Ben!
Ben Stout | Development Specialist | A1 Development Solutions
ben@a1developmentsolutions.com | 605-488-0089