Meet Erika Klein, Learning & Development Manager | Career Spotlight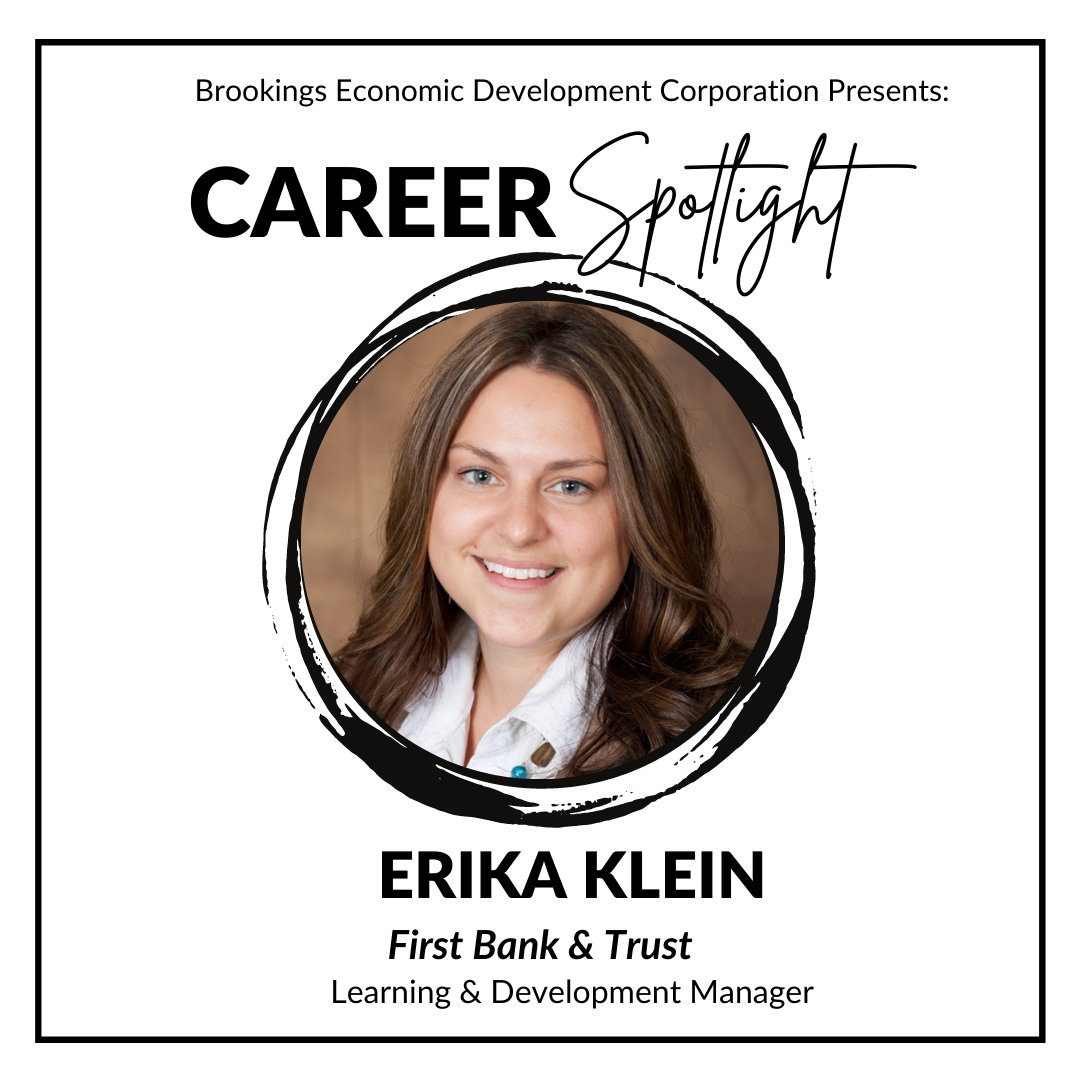 9 Jun 2021
Career Spotlight
Brookings native, Erika Klein is the Learning & Development Manager at First Bank & Trust. She graduated from SDSU in 2006 with a degree in German and minors Business and Communication Studies & Theatre. Erika has a passion for people and loves helping others grow their skills!
Name: Erika Klein
Title: Learning & Development Manager
Hometown: Brookings, SD
Company: First Bank & Trust
What are your responsibilities?
In her role as the Learning & Development Manager, Erika is responsible for designing, developing, and delivering personal and professional growth opportunities for the bank's employees. Other duties include onboarding new employees and instilling the First Bank & Trust Service Culture. Erika also provides training for systems, products, sales, soft skills, and processes. She proudly leads a team of 4 L&D professionals and always planning for bank's future needs.
How did you find your way to where you are today?
Erika graduated from SDSU in 2006 and had no idea what she wanted to do or even what she could do from there. She majored in German with minors in Business and Communication Studies & Theatre. Erika jokes, "So, clearly banking was the obvious next step – KIDDING!"
A family friend of Erika's was working for a financial institution and mentioned that she would have the disposition to do what her friend was doing, so Erika applied and got the job. While she didn't love the job, she loved the knowledge it gave her and how it opened a whole new world of possibility in the banking industry.
A year later, Erika transferred into a personal banking position and she LOVED helping people understand their finances and teach them the tools they needed to reach their goals. More than the banking itself, Erika realized that she was drawn to coaching and helping her coworkers grow their skills. That's when the lightbulb went on — she wanted to be a full-time trainer!
What role has education and training played in your career path?
Being passionate about education, not only for herself but and for her coworkers has been vital to Erika's career path.
"No matter who you are, there is always growth opportunity and you're never too old, too young, too new, too veteran, etc. to learn more."
-Erika Klein
What qualities or characteristics do you find are necessary to be successful in your role?
Emotional Intelligence as a whole, and specifically social intelligence is a must! In Erika's role, she has to read the room constantly to measure engagement and understanding and also be able to pivot if necessary. She watches for facial expressions, body language, participation, and potential compatibility issues– it's an art AND a science!
One of the biggest signs of a great trainer is the ability to think on their feet and just work it out in the moment for a positive outcome. Sometimes participants will say something out of the left-field that the trainer will either need to address or tactfully move away from. It is important to not shut down participation, so being able to essentially say, "thank you for your contribution" while also keeping to the topic at hand is vital.
How would you recommend someone interested in the same career/occupation pursue a similar path?
Start small and see what options you have in your current role to be able to coach, train, and facilitate. Is your manager looking for someone to help train the new person? Take them up on it! Volunteer to lead team meetings, to put a little pizzazz in a strategic planning session, or to present to students or colleagues on a topic related to your role.
When you attend a training or workshop, watch what the trainer does. They are doing more than simply teaching material. Everything that a good facilitator/trainer does is done for a reason.
Toastmasters is also a fabulous group to join in order to hone in on your presentation skills.
What extracurricular activities helped you develop professionally?
Leadership Brookings was a great place to meet new people and network! Erika also recommends participation on any board or committee. This is an opportunity to grow your skills, whether that is reading people, facilitating discussions, or leading projects, all of this is vital to professional development.
What are other skillsets (perhaps unconventional) that thrive in this field?
Storytelling is a skill all its own! The ability to capture an audience and take them with you emotionally is highly useful in this field. Erika shares, "It's not enough to just be an expert in the field, in fact, we are often not the expert in the topic we're covering. We are, however, experts on how people learn and how to engage people where they are and take them with you on this learning journey."
What is a typical salary range for someone starting in this line of work?
There are so many levels of training, that it is difficult to pinpoint. However, if you are interested in this line of work, Erika recommends doing some online research or having a conversation with someone in this field.
Want to learn more? Connect with Erika!
Erika Klein | Learning & Development Manager | First Bank & Trust
Erika.Klein@bankeasy.com | 605.690.4585